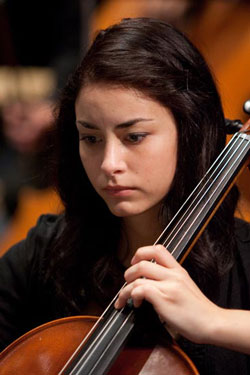 Now in its 58th Concert Season, the Florida Symphony Youth Orchestra continues to educate and inspire Central Florida's top young musicians. The 4 orchestras that make up the FSYO all reflect a commitment to provide young musicians with the opportunity to strengthen their musical talents and develop an appreciation of the arts through classical music. The artistic staff, administrative staff and Board of Directors are all committed to bringing your students an exciting and challenging season of excellence!
Testimonials in Support of FSYO
"Ensuring every child has the opportunity to experience an arts education is very important to me. FSYO shares this goal with me, and it gives me great pleasure to highlight the work they do."
– Josh Groban, Multi-Platinum Singer and Songwriter, Actor and Producer, 2011
"We are fortunate to have made a connection with the Florida Symphony Youth Orchestra...our experience with them was a pleasure, and we would highly recommend them to others for their professionalism, talent, and friendliness. They truly made our event special." – Cathleen Raffety, Howard Phillips Center for Children and Families, 2010
"Having Nadja Salerno-Sonnenberg perform the Mendelssohn Violin Concerto with the FSYO was an invaluable experience for orchestra members and our audience alike. FSYO concert goers were also able to experience the interaction between a World-Class musician and the young musicians of the future. This was truly a great artistic investment for all involved with the Florida Symphony Youth Orchestra." – Maestro Andrew Lane, FSYO Music Director, 2012
"Knowing that I've grown up with all these orchestra kids; we're like family. I've enjoyed every moment. I'm so proud to be part of this fantastic organization!"
– Margo Slaby, 2012 alumna
"The FSYO is an incredibly enriching experience and has without a doubt taught me that with hard work, responsibility and dedication, nothing is impossible."
– Caitlin Pequignot, 2010 alumna